"If we're not brave now, there's not going to be a world to be brave in later."
College junior Danie Stewart is done with the climate skeptics.
As president of the Oxfam Club at the University of Maryland at College Park, she is one of many young people leading the movement for climate action. Long after this week's global climate strike fades from the headlines, she wants to show more students the connection between climate and other critical global issues—from forced migration to gender inequality to the fight to end hunger.
"You can't stop the injustice of poverty without addressing climate change," she says.
We caught up with Danie to talk about her life and work on campus and why young people are making climate action a priority—now.
Tell us a little bit about yourself.
I grew up in Maryland. My mom's side of the family is from Appalachia, and she grew up in a really small town in West Virginia. She followed in her father's footsteps by joining union organizing and now works for SEIU (Service Employees International Union) so a lot of my drive for activism and change-making comes from that. I've always been interested in how we organize and mobilize for things that are important to us. And it's exciting to meet people on campus and through Oxfam with family members that inspired them.
When you hear the words "climate change," what comes to mind for you?
A lot of really intense and difficult things to process. It feels apocalyptic in a lot of ways. We've all seen the studies that say, this is our timeline, there's an end date where if this continues to happen—we won't be here. It's hard to wrap your brain around the amount of damage that humans have done in such a short amount of time. And we're lucky in the US because we don't face the first impacts of climate change, but even in Florida, right now, we are seeing this hurricane [Dorian] coming in, and it's catastrophic—and it's going to do damage. And I think that's starting to wake people up to what people in developing countries have been experiencing for decades.
What's it like to be on a college campus as the world gets hotter and hotter?
There are little changes that you wouldn't even normally blink twice at. We have all this construction, and they're cutting down trees. The administration has said they'll replant one tree for every tree they cut down, but now more students are saying there's a difference between a fully grown tree and a sapling. It won't be as strong a force in cleaning our air, or providing space for certain creatures to live, or creating a green landscape that is good for students' mental health.
As an Oxfam Club we're trying to bridge the gap between people thinking you can either care about environmental issues or social issues. If you care about the environment, you care about people—and if you care about people, you care about the environment. And we know the first people impacted by climate change are the poorest people in the world—the people who are least protected by whatever they have.
What does it mean to you that young people are leading this fight for climate action?
I think it's really significant for a couple of reasons. Maybe I'm saying this because I'm 20 years old, but I think it's difficult for older folks to be comfortable seeing the ramifications of what has been going on for so long. This is the world that people in their 20s have grown up in. We've been talking about it for our entire lifetimes. And now younger people feel like they are ready to point out those flaws even if it makes people uncomfortable. We're not interested in keeping the status quo.
Our Earth is dying, and we need to stop that. You see that in the passion young people bring to the table. If we're not brave now, there's not going to be a world to be brave in later.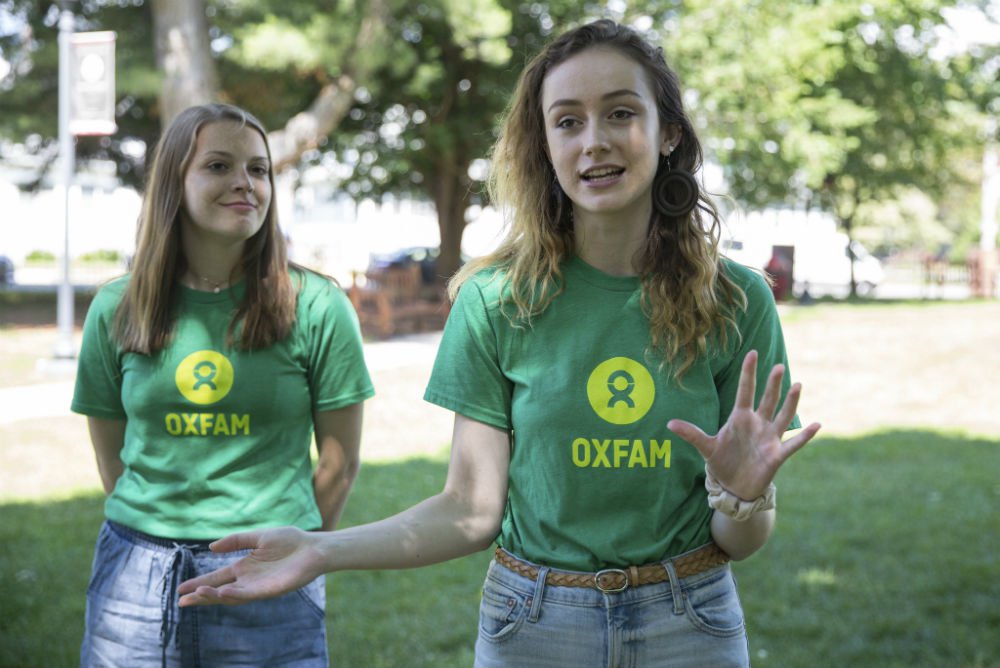 As a white woman, what do you see as your role in this fight?
I don't think enough people are asking that. It's something that has been on my mind these past two years—there are moments where I can speak up and there are moments where I need to make ways for other people to speak up. It's hard because when you're in certain leadership positions I want to facilitate good spaces for people of all different identities to be involved. It's been a really good space for people who have not been typically given the opportunity to voice their experiences—for people of color to get the chance to speak up. And the amount of strength and power that comes out of self-reflection and discussion is important. We should be talking about race every day. We should be talking about gender every day.
What obligations do you think the US has to address climate change?
I feel very embarrassed as a US citizen by our lack of involvement in global conversations about climate change. And it's not surprising. For so long we have been the main source of what's been contributing to climate change, and to be honest, we don't want to own up to it.
I hope this election brings up those conversations—tell me what you are going to do. Are you going to tax carbon? Are you going to create more regulations on fracking? What are you going to do? That's something some candidates are hesitant to do but we should force them to take a position—even if it upsets these corporate players that have been so powerful in our politics.
Why do you think it's so important that we end the injustice of poverty?
Poverty is so impactful in every type of injustice we have in the world and everything connects back to it. The issues of poverty are drastically driven by a very few people in the world who are extremely powerful and wealthy and our ability to influence them is going to be what helps make change happen. Refugees are at risk, women are faced with difficult decisions related to education, and migration is affected by climate change. It's not going to be fixed by charity. These are huge challenges that create imbalance all over the world for so many people in violent and catastrophic ways, but what I like about what Oxfam does is think about productive ways to instill that change in creating programs, education, and pointing out the flaws. I don't think you can do any work in the world without being an influencer—for injustice or against it.