On World Refugee Day, show your support for the NO BAN Act that would repeal President Trump's existing executive order blocking travel from majority-Muslim countries.
More than two years ago, President Trump's Muslim ban went into effect. It was wrong then to bar people from majority-Muslim countries from coming to the United States, and it's wrong now.
Here's the good news: Almost one year since a divided US Supreme Court upheld the ban, legislation has been introduced in the House of Representatives and Senate to dismantle it once and for all—the NO BAN Act.
Show your support today for the NO BAN Act!
The National Origin-Based Antidiscrimination for Nonimmigrants (NO BAN) Act repeals the three versions of President Trump's Muslim ban; strengthens the Immigration and Nationality Act to prohibit discrimination on the basis of religion; and limits overly broad executive authority to issue future travel bans. The legislation is supported by more than 90 members of Congress, almost 400 diverse civil rights, faith, national security and community organizations, as well as private companies and more than 50 immigration law professors.
"The NO BAN Act is a much-needed constitutional safeguard that will protect the spirit of our democracy's revered system of checks and balances and ensure the executive branch is in compliance with our constitutional norms and the rights and liberties protected by our Constitution. This legislation also strengthens our democracy by placing congressional oversight on the executive branch," said Khizr Khan, Gold Star Parent and constitutional rights and national unity advocate from Charlottesville, Virginia.
According to the State Department, there were almost 50,000 applications for immigrant and non-immigrant visas from people from those countries affected by the ban between December 8, 2017, and October 31, 2018. Only 2,216—less than 6 percent—met the government's criteria for a waiver.
We can't stop this injustice without you.
Over the last two years, you've stood strong with us—through thick and thin—to let the Trump administration know every step of the way that this is unacceptable, and that this has to change. See what we've done together because we chose to act.
One day after President Trump signed the Muslim ban in late January 2017, impromptu demonstrations in several airports quickly sparked a nationwide movement, prompting formal protests in cities across the country. From the White House, to Boston, New York City, Los Angeles, Houston, and beyond, millions of Americans and Oxfam supporters made their voices clear: refugees are welcome here.
Two months after the ban went into effect, Oxfam shared the story of Khaled Al-Wadi, who fled Syria with his family in 2012. He was about to be resettled in the United States when the ban was suddenly put in place. "I was deeply shocked to hear about this decision that bars my family and me from entering the US. We pinned our hopes on traveling there," he said, sitting in his prefabricated home in Jordan's biggest refugee camp, Za'atari. Despite going through the lengthy US vetting process, his wife Laila and their children Hazem, 6, and Rana, 3, were shut out.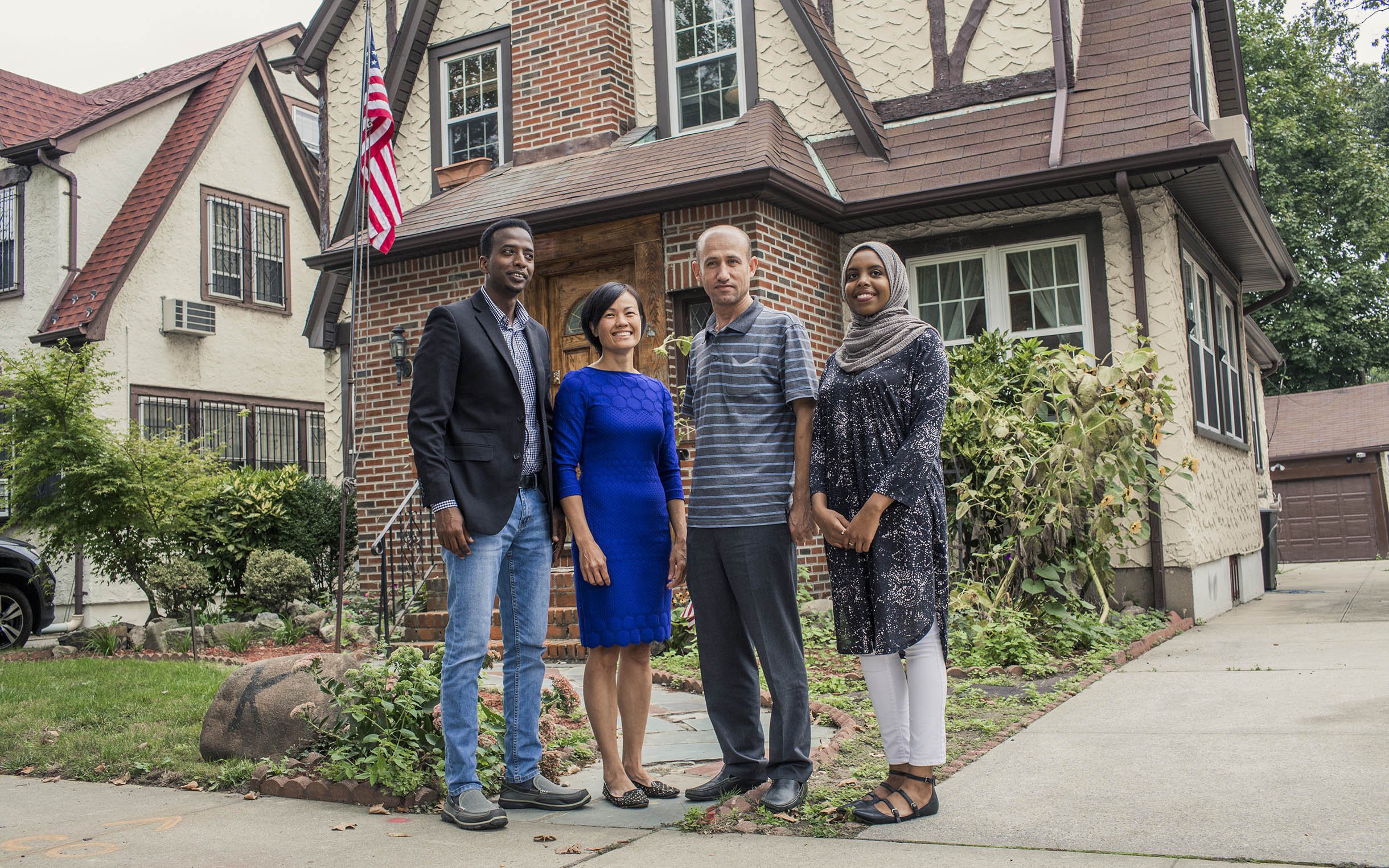 As world leaders gathered in New York for the UN General Assembly in September 2017, Oxfam and refugees resettled in the US from Syria, Somalia, and Vietnam gathered in the childhood home of President Trump to send an unequivocal message to the US government: Do more to resettle and help refugees. It was a critical moment to remind the world that a cornerstone of the founding values of the US was to offer oppressed people refugee from violence and persecution.
From signing petitions calling on the US to welcome refugees to urging elected representatives to fight back against the Trump administration's heartless refugee resettlement policy, Oxfam supporters made their voices heard on Capitol Hill. In March 2018, Oxfam hosted 25 Sisters on the Planet ambassadors in Washington to urge their public representatives to support full funding of lifesaving foreign assistance programs, especially programs supporting refugees. "In this critical time of unrest and rising need around the world, we must not turn our backs on the poorest and most vulnerable, too often women," said former Wisconsin Lt. Governor and Sister on the Planet ambassador Barbara Lawton.
In June 2018, news broke that the US Supreme Court had ruled 5-4 in favor of upholding President Trump's Muslim ban. The pain was real, but the commitment to fight continued. "There's a human impact behind this ban that we rarely focus on," said Isra Chaker, Oxfam America's refugee campaign lead, on the steps of the U.S. Supreme Court the morning of the decision. "A human impact that impacts people like me, an American born and raised in Boulder, CO."
---
Let's continue to fight together to dismantle the Muslim ban-once and for all!